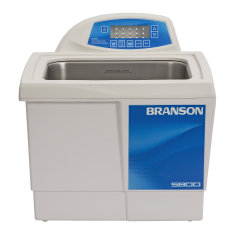 Bransonic CPXH heated ultrasonic baths are the most technologically advanced ultrasonic baths available. With programmable features, digital operation with power tracking capabilities to adjust for light or heavy loads, high/low power control, degassing and sleep mode, the CPXH is the most versatile system available.
The CPXH baths offer the following features:
Sweep frequency eliminates standing waves and creates consistent cavitation throughout the tank.
40 kHz rugged industrial transducers.
99-minute digital timer and continuous ultrasonic operation.
Can be heated up to 69°C/156.2°F and set for either Fahrenheit or Celsius.
   **NOTE* It is important to know that nothing can be rested on the bottom of the ultrasonic tank.  Please order a parts tray with your ultrasonic cleaner. PN: CEI-100410166**